Hulk smash for the latest Most Wanted Collectibles Update!
-- Posted by Tamer on Wednesday, March 4 2015
A KOTOBUKIYA Japanese import! Hulk smash! Kotobukiya's hit Marvel Comics ARTFX+ series has brought fans Avengers straight out of the comics, and now it turns to the big screen with the upcoming mega-blockbuster Avengers: Age of Ultron. Two mighty characters start the new collection with the return of the angry green monster, HULK! The fully powered version of gamma-irradiated Bruce Banner (portrayed in the Avengers films by Mark Ruffalo), the Hulk is an unstoppable titan of rage and ferocity who's just as much a threat to his allies as he is to his enemies.

Don't make him angry! Unrestrained and fully unleashed, Bruce Banner has left the building and the Hulk is in control. The massive green-skinned monster hurtles into battle, thick legs pumping and his enormous hands squeezed into fists to pummel anything that tries to stop him. The Hulk conveys a huge presence with his heroic proportions and rippling physique that stands out with every muscle on display. The Avenger is fantastically detailed with intricate anatomy down to his sinews and veins, all topped off by a fierce facial sculpt that captures the character's never-ending rage! This time around the Hulk does things a little differently, wearing high tech red-striped purple shorts rather than the traditional tattered pants.

Sculpted by the same master artist who did the Avengers Marvel Now series, Junnosuke Abe (RESTORE), the new Hulk stands 9 ˝ inches tall (in the ARTFX+ 1/10th scale) as he charges into the fray. He strides powerfully across a brick street, destroying the surface as he goes with every step of his massive bare feet. You'll be tempted to place this angry wrecking machine by himself in your collection, but look to the Avengers: Age of Ultron Hulkbuster Iron Man statue; their bases fit together and they create an incredible battle scene!

---
Hasbro sends word on new REBELS Ahsoka and Darth Vader!
-- Posted by Tamer on Wednesday, March 4 2015
"Hi, Star Wars fans. In celebration of the Star Wars Rebels Season One finale, Hasbro is thrilled to introduce the return of two incredible fan favorites: Darth Vader and Ahsoka Tano. Seen for the first time in their unique Rebels styling, these 3.75" figures are a significant addition to Hasbro's already extensive line of Star Wars Rebels action figures and role play toys. The figures will be available Fall 2015."

---
Ron Hembling updates us on his Snow Scout Diorama...
-- Posted by Tamer on Wednesday, March 4 2015
"Hi All, A bit more of an update, the scout has been attached to the speeder and base and is %85 complete. All I have to do know is complete the weathering on both the scout and speeder and then start on the base. Ron." Talk about fantastic. I always enjoy seeing his updates and this project is extra special!

---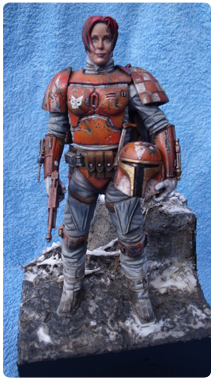 The Iron Panda finishes his six inch Female Mando...
-- Posted by Tamer on Wednesday, March 4 2015
"I have decided to go for a cold and harsh environment with rocks and dead wood lying around. All the Armor was painted with an airbrush using masking fluid applied with a cut up sponge. I painted some extreme highlights on certain scratched areas to make some scratches appear deeper and more pronounced. The rocks were carved from Styrofoam,the snow is made from microballoons mixed with white glue." He isn't sure this one is epic, but I am gonna have to beg to differ on this one.

---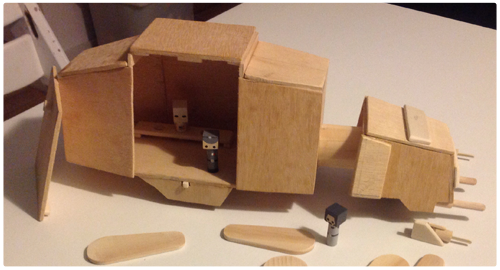 Ben Alius updates us on his AT-AT progress...
-- Posted by Tamer on Wednesday, March 4 2015
"Head and body glued together. Belly details also attached.
And the first leg halfway done." This project is like Star Wars meets Minecraft. I love the wooden construction.

---
Starchaser shows us a couple new customs...
-- Posted by Tamer on Wednesday, March 4 2015
"Since they made the S.A. Naboo royal guard, I've wanted to put the original (5POA) head on the new body. Well I finally got around to it. A little paint and liberal use of the dremmel and I've got two distinctly different Naboo royal guards." Looks good to me. He also has a great new Bounty Hunter to see.

---
Elias sends in an update...
-- Posted by Tamer on Wednesday, March 4 2015
"Last year around the holidays, Dad bought me some of the podracer cast figure models that were created by ASIS FILM MODELS. Although the figures offered no articulation, the sculpts were really amazing! Recently I painted the Wan Sandage that I received to display with my podracer collection. It was really cool adding another great podracer to my Phantom Menace collection. Stay tuned for more podracers throughout the month of March!"

---
Hasbro Toy Shop offers discount code...
-- Posted by Tamer on Wednesday, March 4 2015
The Spring Friends/Family discount code from HasbroToyShop is now active. Use Family2015 for 20% off your order plus free shipping (no minimum order required) Thanks to our friends at Yakface.com for the heads up.

---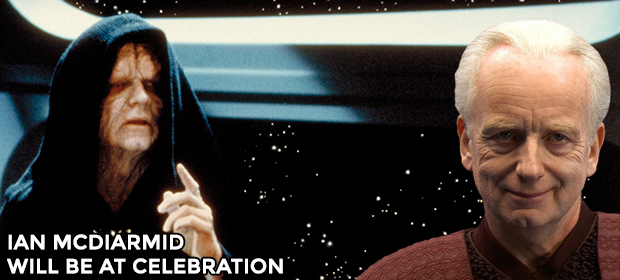 Ian McDiarmid is coming to Celebration Anaheim!
-- Posted by Tamer on Wednesday, March 4 2015
"Ian McDiarmid: Best Known For: Palpatine: Episodes I-III, V-VI. Ian McDiarmid, the actor who unforgettably played the evil galactic mastermind and the ultimate villain of the Star Wars saga, will make a rare convention appearance at Star Wars Celebration Anaheim, appearing on-stage and signing autographs."

---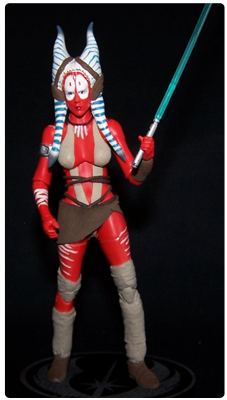 TS Hobbies gives us his final entry pics for the latest custom challenge...
-- Posted by Tamer on Tuesday, March 3 2015
His 6" Custom Force Unleashed Shaak Ti is just fantastic. It is so hard for me to grasp that we will never get this type of figure from Hasbro as EU is off limits. Click on through and prepare to be amazed. Fantastic work Tim!

---
Bronxstalker checks back in with an update...
-- Posted by Tamer on Tuesday, March 3 2015
"Now that I'm back home from traveling, I was able to finish up on my female Mando assassin. I love how she came out. You know the deal...sculpted armor parts, arcylic paints, typical Mando weathering and sealed to protect against paint rub." Here is a link if you are interested in owning this one too.

---
My Kind of Scum is back with a great update...
-- Posted by Tamer on Tuesday, March 3 2015
"I had a surprise free day today, so I made it a Star Wars day and finished up some more things that I have been working on for awhile. First up, my take on the Tonnika sisters. Not perfectly screen accurate and I'm still not super happy with them (they need sculpted collars and I'm not 100% pleased with how they're both looking down...) but they've been half finished in my bins for months, so I finished painting them and am calling it good and walking away from them for now. The heads are by I Am Boba Fett. Bodies are both Joe Scarlett bodies - I chose two slightly different bodies to differentiate them even though that isn't screen accurate. I just preferred them that way." Well I would call this a great day. His Rosa the Hutt is just fantastic too!

---
The Iron Panda with an update to his six inch Gal Mando!
-- Posted by Tamer on Tuesday, March 3 2015
"I 've mostly finished the painting stage and started work on the base..." Folks this is really one of the nicest six inch Mando Conversions I have seen. The new paint work is something you just have to see to believe.

---
Ben Alius updates us on his AT-AT progress...
-- Posted by Tamer on Tuesday, March 3 2015
"Yesterday started constructing the "head" of the AT-AT... Some parts still need to be attached together... I'm going to try to paint the missing shape detail like the round curves on the side where the guns will be attached to." I am really enjoying this series folks. Oh Hasbro, if you are looking for a new line why not make something like this?

---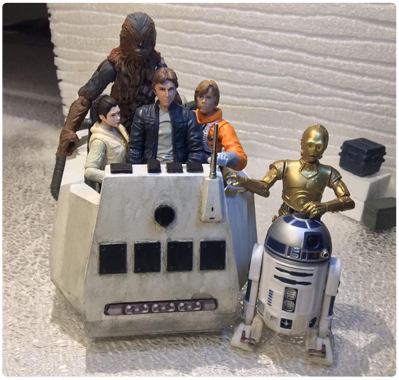 Custom Jedi checks back in with a dio update...
-- Posted by Tamer on Tuesday, March 3 2015
It looks like a Hoth Scene to me, but he didn't leave a description so thats what I am going with. It is great to see he is still dabbling in dioramas! I just found out the Tram is a modified version from Hole in the Ground.

---