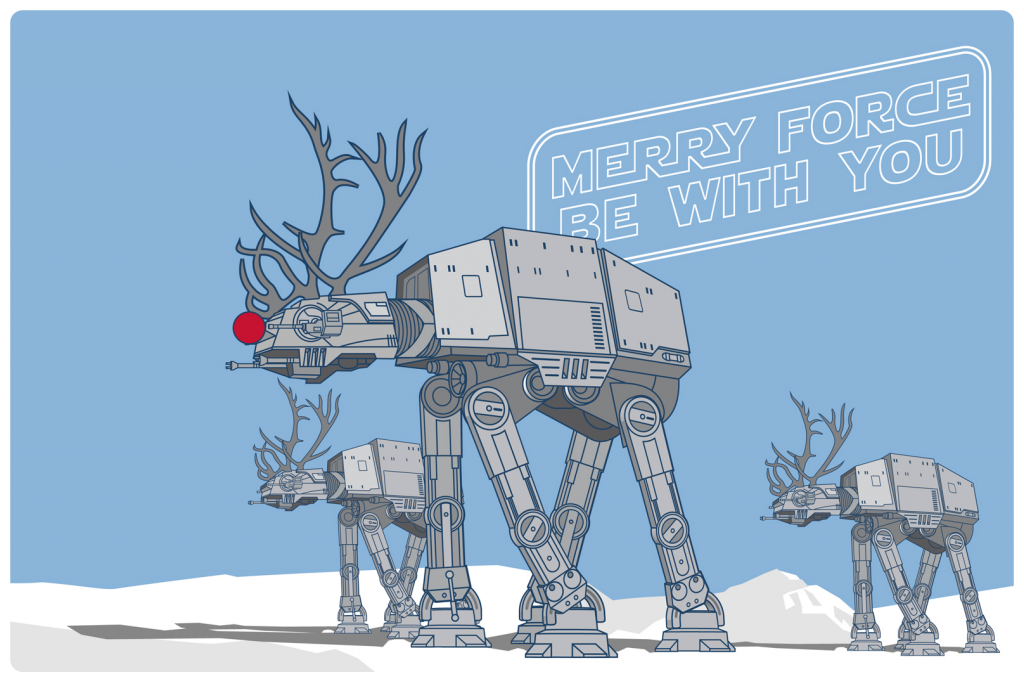 Merry Christmas Shipyarders!
-- Posted by Tamer on Wednesday, December 24 2014
We here at Imperial Shipyards want to wish you and yours the very happiest of holiday seasons. May your stockings be full of action figures and your tree carried away by AT-ATs. Feel free to post your own Christmas Message in our forums. Thank you so much for allowing us to have yet another great year enjoying our chosen hobby.

---
Congratulations to our Grand Prize Winners!
-- Posted by Tamer on Wednesday, December 24 2014
Well the wait is over and we are finally ready to announce our Grand Prize Winners for our 2014 Birthday Custom Challenge. First place goes to Luke Sprywalker with his Ultimate Kamakura. It just epitomizes the concept of "ultimate." Second place goes to Ron Hembling with his Turok Dinasaur Hunter. That creation just exudes the word fun. I want to thank everyone for participating again and I already can't wait for next year! Please enjoy our Facebook Gallery of all the winners!

---
Post a pic of your favorite custom for this past year!
-- Posted by Tamer on Wednesday, December 24 2014
I am gonna create another video like I did last year of your favorite custom you have created yourself for this past year. It is but one small way of saying thank you for yet another wonderful year of custom artwork. I am truly thankful for all of you and so appreciate you sharing your work. Post your picture and short description here and I will get cracking on that video!

---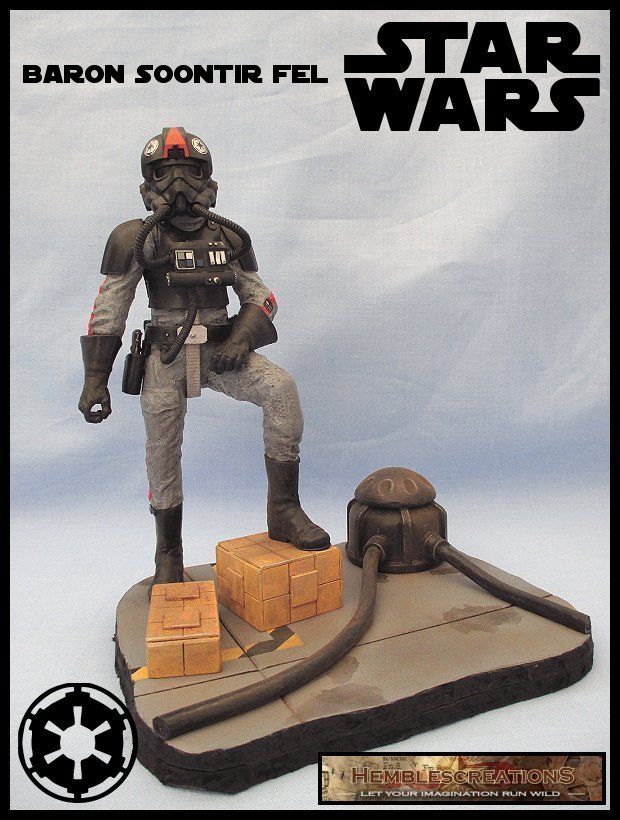 Ron Hembling is back with a new six inch diorama...
-- Posted by Tamer on Wednesday, December 24 2014
"Hi All, I did a 3-3/3" Fel back in 2006 and decided that I would redo him in 6" format. Also have a great xmas and a very happy new year. Fel - is a Black Series 6" Tie pilot, I added shoulder armour from a Stormtroper and pistol and holster from Greedo and a few pouches from the parts box. I also added an extra tube from is chest computer to his thigh using which I got from the parts box, I super glued the joints and then puttied them and then covered the uniform in tissue paper." Merry Christmas to you too Ron. Thanks for sharing your work this past year!

---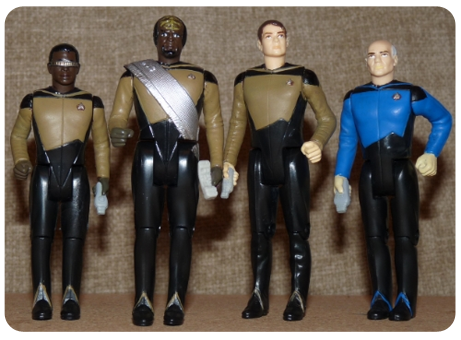 Koth continues his custom tutorial...
-- Posted by Tamer on Wednesday, December 24 2014
He is taking some of his first Star Trek Customs and going through getting rid of the early paint and going back to repaint them. I would say he is really coming along with them. And yes we do like all custom action figure lines around here!

---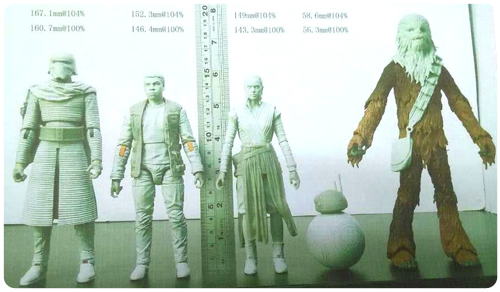 Episode 7 Six Inch Figures revealed?
-- Posted by Tamer on Wednesday, December 24 2014
Coming from a Chinese Star Wars Fan Site we see the leak of a possible image of figures for the upcoming six inch line. I will neither confirm or deny the authenticity of this, but it sure does look interesting thats for sure! Click here to let us know your thoughts on these new figure reveals.

---
John Caliber shares a new chapter of Netheworld!
-- Posted by Tamer on Tuesday, December 23 2014
I have really been enjoying his new photo-novel series Star Wars Toyscapes: The Netherworld and now he is back with Episode V. Folks these artists create such wonderful stories for us to enjoy and I would great appreciate it if you could give these folks just a few words to let them know we appreciate their hard work just to help us enjoy our chosen hobby a bit more. Thanks to John Caliber and folks like him we always get a new infusion of Star Wars!

---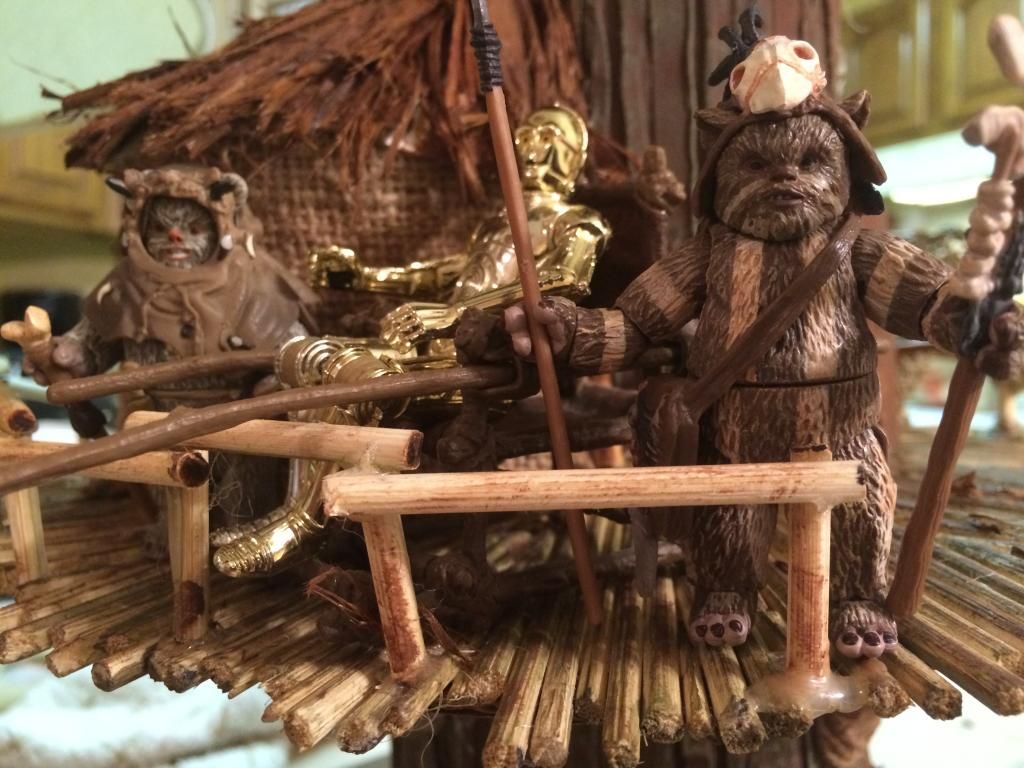 Jseversole back with an Ewok Village WIP...
-- Posted by Tamer on Tuesday, December 23 2014
"Here are some photos of my Ewok Village which is still under construction. It will eventually encompass two trees with a platform connecting the two (where the movie scenes will be recreated.) The top "observation" deck will contain a live vine plant and the other tree will also have a live plant incorporated into the top." We have really been impressed with his diorama postings so far and you can tell this is going to be just as grand.

---
I-am-Boba-Fett shares more details...
-- Posted by Tamer on Tuesday, December 23 2014
"Since My Kind of Scum posted pics here of the custom Riyo Chuchi figure that he commissioned me to make him I grabbed a few moments out of my day and am posting additional pics of that custom Riyo Chuchi figure. Her shawl is non-removable and it is entirely sculpted as are the belt buckles on her front and back midsection. The paintwork on the shawl took a few days alone to complete." He even has a link up to a new E-Crater Store he opened up. We wish him the best of luck with it.

---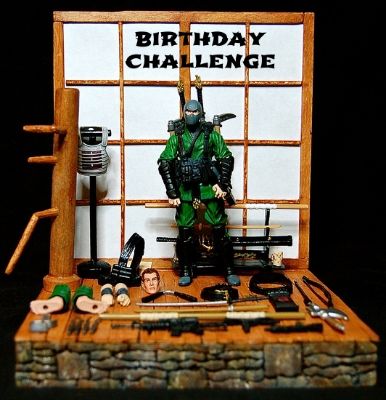 Luke Sprywalker wows us with his BDay Challenge Entry...
-- Posted by Tamer on Monday, December 22 2014
His Ultimate Kamakura with Ninja Dojo is just a fantastic set all the way around. I can't even imagine what folks would do if the Big H announced a figure or set like this. Truly this is what ultimate is all about. Stay tuned folks I think we are just about ready for our grand prize announcements. I have been so impressed with the challenge entries and want to thank everyone once again who entered.

---

My Kind of Scum shows us his customs update...
-- Posted by Tamer on Monday, December 22 2014
"And the Gonk project... A couple of these have been seen, but this is the full series. Basically, when I did a couple of Gonk repaints, my daughter decided that she wanted to have a rainbow of droids. So, she helped me paint some of these up so that we would have a full rainbow of them. I glued some bits and bobs onto them to differentiate them..." Trust me there is a lot more to see than the Gonks, but wow you gotta love that!

---
My Kind of Scum commissions a figure from IABF!
-- Posted by Tamer on Monday, December 22 2014
"I hope it's ok with IABF to post these... I commissioned him to make a Riyo Chuchi figure for me and was happy with the result - figured I would share his work here since he hadn't posted it." Well it sure looks like she turned out well to me!

---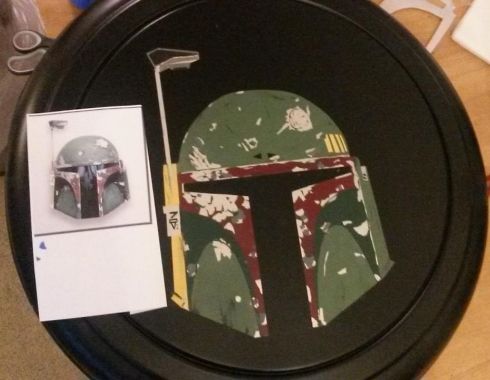 Spuda Fett creates an awesome emblem for his wheel cover...
-- Posted by Tamer on Monday, December 22 2014
"Last year for my birthday my parents bought me a great hard ABS plastic wheel cover... originally I wanted the hard cover so that I could buy a vinyl sticker that could be removed... but I never got around to it. I toyed with the idea of painting it... and for a long time wanted to... but my ex thought a blatant show of my love for star wars on the back of my jeep would be bad. So Here's the wheel cover." Well I for one am glad he did this as it turned out fantastic. He gives you a step by step tutorial for how you can recreate this yourself!

---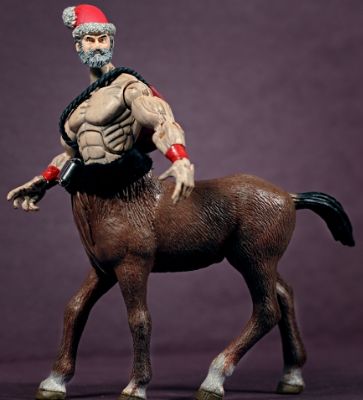 Krash Override gets us in the Christmas Spirit!
-- Posted by Tamer on Monday, December 22 2014
"Twas the weekend before Christmas and all through the house...Santaur, the final product. Upper body has decent articulation. I just need to play around with articulating static figures to get those horse legs moving. Do you even lift? Santaur ready for the season. I hope for your sake that you're not on the naughty list. Merry Christmas I.S. Here's to another year of oddities!" I wonder if he pulls his own sleight?

---
SHOP STAR WARS @Dorksidetoys NOW!
-- Posted by Tamer on Sunday, December 21 2014
Have you seen Dorksidetoys' new Daily Deals? Stay tuned to the Dorkside Toys Facebook Page and ISY as we feature these when they hit.

Still Not Bought Wave 6 Star Wars TBS? Save Gas, Time & Money & Get Them At $19.99 Each In Our FREE SHIPPING Case Pack.

Wave 5 of six inch black series also still available with singles of Vader and new Hot Wheels.

Don't forget to check out Saga legends, Mission Series, Mafex, new Fabrikations, & cool POP! Star Wars vinyl as well.

SHOP STAR WARS NOW

Also, don't forget to check out the entire Dorkside Toys Newsletter that is updated each week as this is just a fraction of all the action figure goodness you can find there!

---