Starchaser gets his Bounty Hunter on for our latest custom challenge...
-- Posted by Tamer on Tuesday, September 2 2014
"I've put together a bounty hunter team created by Kathy Tyers for Star Wars Adventure Journal and included in Tales of the Bounty Hunters. The team is a red-headed human female, Tinian I'att, whose family were armorers and were killed by Imperials. She gets connected to a Wookie, Chenlambec, a reputed bounty hunter called the Raging Wookie. Chenlambec is a rare silver-tip Wookie." They look great to me. Don't forget this is the last week to get your own bounty hunter on for the challenge. Full details can be found here.

---
Jrny Fan is back with a 3D Printing Update...
-- Posted by Tamer on Tuesday, September 2 2014
"Still refining a bit, but here's the completed prototype. Hope to have this Vehicle Repair and Charging Station up for sale on the store later this week. Pipes are flexible, but have wire in them so they can be posed however. The pipes seem to fit nicely into figures' hands. The ring the pipes attach to rotates. The top lid pops off and offers storage area for guns/tools." Wow, if that isn't just another cool success on the ole 3D!

---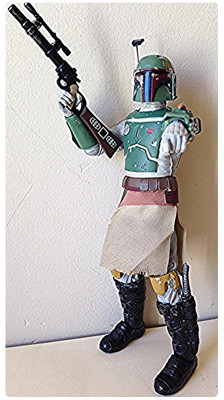 Clonesniper78 is back with an update...
-- Posted by Tamer on Tuesday, September 2 2014
"Here is a 6" custom Boba Fett I put together today. He's got some boots from the Guardians of the Galaxy Drax figure. I also turned his side cape into a skirt more or less. Still contemplating painting him totally different or just leaving him as is. What do you guys think?" Well I think those boots are ftw and seeing a Mando will double take knives is a win win all around.

---
Happy Labor Day from ISY and Custom Action Figure News...
-- Posted by Tamer on Monday, September 1 2014
I figured what better way to say Happy Labor Day than to showcase the Latest Episode 74 of Custom Action Figure News. This time Chad and I are back to catch up on the latest news and nuggets from the world wide web. Of course we highlighted some current customs that caught our eye, the current collecting and Star Wars News of the week, and see if there are any products or sales that are getting a bit of our notice. And don't forget about What's on the Pegs! It got a bitch glitchy on us twice, but those have been edited out and thank you for your patience if you were watching live. Happy Labor Day folks! Celebrate safely! And get into more CAFN Episodes on the ISY CAFN Page.

---
Jetpack Blues gets his bounty hunter on for our latest challenge...
-- Posted by Tamer on Monday, September 1 2014
"Think we wild just call this the final version. Really just a hack job. Been too busy with other things to get work done with customs but I had a some time this evening to just knock out this guy." Well maybe JPB needs to hack more often as I am liking that look of the new bucket modeled after what I am assuming are the new Episode 7 Storm Troopers. Don't forget this custom challenge is winding down and you have until next Saturday to get your Bounty Hunter created and posted. Read the full details here.

---
ST Juggernaut is back!
-- Posted by Tamer on Monday, September 1 2014
"Wonder Woman - Batman V. Superman: Dawn Of Justice: My latest addition to my custom DC cinematic universe has been a long time coming. As soon as they announced Gal Gadot as Wonder Woman I've been putting the pieces together, waiting for the first picture so I can start making the custom. Well this past comic con they showed the first image and it was fantastic. I immediately started work on her and have just finished her up. The figure features a removable harness which is attached via a series of neodymium magnets. The lasso of truth she carries on her right his is also attached via magnet, with one embedded in her hip and her skirt covering it up." Folks this is just awe inspiring and spot on with the image I remember seeing from SDCC. The full recipe is included as well.

---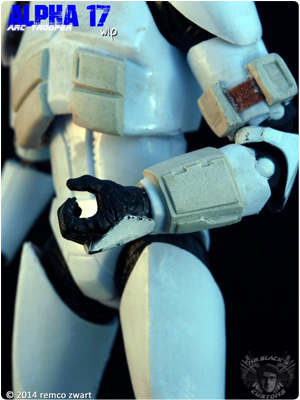 Mr. Black gives us an update on his 6 inch ARC Trooper...
-- Posted by Tamer on Monday, September 1 2014
"Update on my 6 inch Alpha ARC. Sculpting on the upper body is almost complete. Then it's on to modifying the legs." Boy his sculpt work is really a thing of beauty. I can't wait to see how his bucket for this one turns out too.

---
MAXX Replicas updates us on his ILM Diorama...
-- Posted by Tamer on Monday, September 1 2014
What can I say other than wow again. Forum Member Sjefke probably stated it best with his last comments, "I can't tell what is the reference shot and what is the actual diorama!" Folks it is just that good. Make sure you click on through and let him know what you think.

---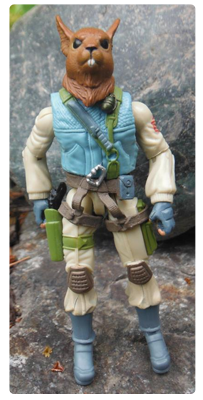 Starchaser is back with an update...
-- Posted by Tamer on Monday, September 1 2014
"OryZen Fallo, a freighter pilot. Originally he was going to be my attempt at a more realistic Lepi (Jaxxons species) but someone else suggested he looked like a Squib (squirrel type species). So I decided he would have had a Squib father and a Lepi mother." There is also a pretty cool Beta Ray Bill looking like an Endor Rebel Soldier too.

---
Starfall is back with a new character for his verse...
-- Posted by Tamer on Monday, September 1 2014
"Now we're heading back to the Altarus Star Cluster for more Starfall. This time I present to you the captain of The Dreamer's Burden, Aahtra Fyuriss, an Obozhian warrior turned Star-Cavalry officer." Talk about fun, I would love to see a comic, book, or movie based on all these cool characters!

---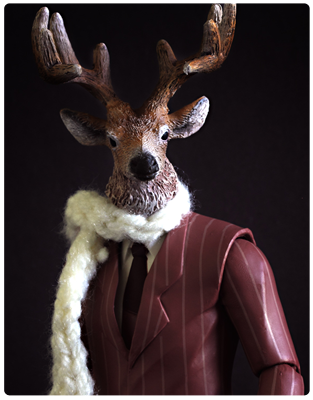 Krash Override is back with an update...
-- Posted by Tamer on Monday, September 1 2014
"I was contacted by a friend on IG who saw Neca's "Spy" from the Team Fortress Two video game line.
She asked if I could possibly make a Dapper Dear out of the Body. I wasn't really sure how it was going to come out, but half way thorught the process he began to grow on me. Now that the Dapper Deer is finished, I must admit that I am a little sad to see him go." KO has sure created some awesome animal human hybrids in his customizing career so far. Good stuff.

---
Dorkside Toys is having a Warehouse Clearance Sale!
-- Posted by Tamer on Sunday, August 31 2014
Our Warehouse Clearance Sale is still on with items still being added regularly. Check out over 125 products, carded, loose & bargains that must go.

We revealed new Star Wars figures this week and we have several in both 3.75" & 6" scale up for pre-order. Plus Rebels, Rebels Saga legends, Mission Series, Mafex, Jumbo Kenner & cool POP! Star Wars vinyl. We also have in stock Clone troopers, Boba Fetts and more in the 6" line.

Also, don't forget to check out the entire Dorkside Toys Newsletter that is updated each week as this is just a fraction of all the action figure goodness you can find there!

---
Its time to head to Walgreens!
-- Posted by Tamer on Sunday, August 31 2014
It looks like the six inchers are hitting there well now. I have seen folks report findings of not only the Proto Fett you see above, but seen them have the Vader, Episode VI Luke, among others in hand now. Don't forget if you find anything good to put it in our New Purchases Thread!

---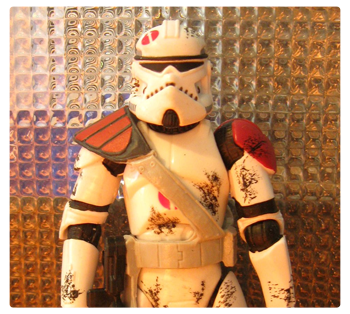 Commander Kurgan is back with more Clones and Mandos...
-- Posted by Tamer on Sunday, August 31 2014
"After having used the belt and shoulder pauldron from the original figure for a project, I threw a spare belt/pauldron rig from a Captain Fordo on him and decided that I like the new look. The DC-17 carbine fits the clip holster nicely, too." I would say that turned out well too. I also like some of his parts swapping he did on a male and female Mandalorian.

---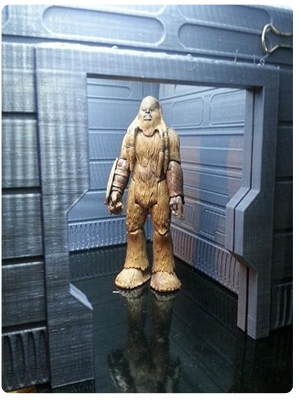 Doc Outlands shows us his walls!
-- Posted by Tamer on Sunday, August 31 2014
"WE HAVE PROTOTYPES IN HAND! WOOOOOOOOOOOT! We had 4x wall panels and 1x floor panel test-printed for us. They look very promising! Sure, there are some design changes I want to make before we have them produced, but that's the way it goes. We're also still working on a way to make them interconnect reliably and securely. BUT ENOUGH DRIVEL!! PICTURES!" I agree they do look promising.

---