Enjoy the Livestream of Celebration Anaheim from Star Wars.com!
-- Posted by Tamer on Thursday, April 16 2015
Take a look at the livestream schedule and stay tuned for the latest livestream directly from Celebration Anaheim. This will definitely stay at the top of the page for the next few days. Are you excited like I am!

---
Can we wait until Christmas?
-- Posted by Tamer on Thursday, April 16 2015
We're home baby! I am not an emotional guy, but this put a tear in the ole Tamer's Eye! Enjoy the latest trailer for The Force Awakens!

---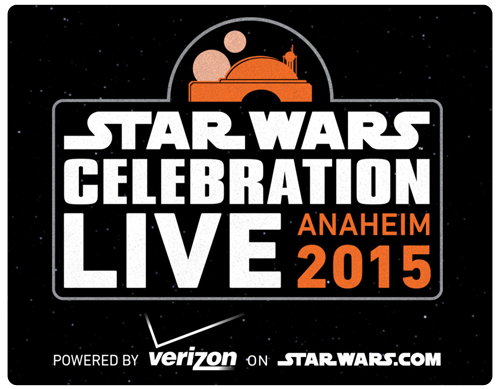 WATCH STAR WARS CELEBRATION ANAHEIM LIVE ON STARWARS.COM!
-- Posted by Tamer on Thursday, April 16 2015
"The live streaming begins at 10:00 a.m. PST, Thursday, April 16, on StarWars.com with the Celebration kickoff panel and continues with 30-plus hours of coverage through the closing ceremony on Sunday, April 19, beginning at 3:30 p.m. PST. Watch exclusive highlights and on-demand clips from Verizon on Twitter, @VerizonWireless, and at Facebook.com/Verizon." I really like the approach Disney and Lucasfilm are taking with this! Look for us to feature video embed codes on the front page all day long as they become available. I wonder what we will find out first? Read the full article on the official site so you will be ready to go too!

---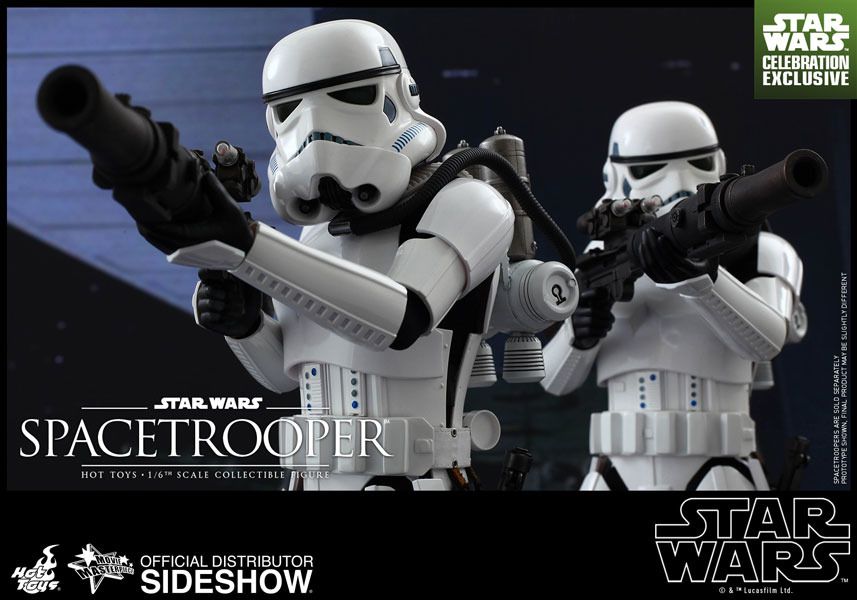 New Hot Toys Celebration Anaheim Exclusive Space Troopers is up for pre-order!
-- Posted by Tamer on Thursday, April 16 2015
"Sideshow Collectibles and Hot Toys are excited to present the new Spacetrooper Sixth Scale Collectible Figure as a Star Wars Celebration Exclusive item! The Spacetroopers are assigned to operate in Zero-G environments, and true Star Wars fans will see these troopers making their appearance when the Millennium Falcon was first captured by the Death Star.

The highly-accurate collectible figure is specially crafted based on the image of the Spacetrooper in Star Wars Episode IV: A New Hope. This specialized trooper features a beautifully crafted armor and helmet, a highly detailed Spacetrooper rebreather pack with detachable parts, two types of blasters, and a specially designed figure stand."

---
Midnight Madness confirmed for TFA Opening at ToysRUs!
-- Posted by Tamer on Thursday, April 16 2015
That and this great contest sure are making me glad I was patient (well at least a little patient) while we got nearer to the first of what I hope will be a new Star Wars Movie every so many years. The Action Figure Aisle is going to be worth walking down again. Happy Times folks! Check out the full details and enter by clicking the graphic below: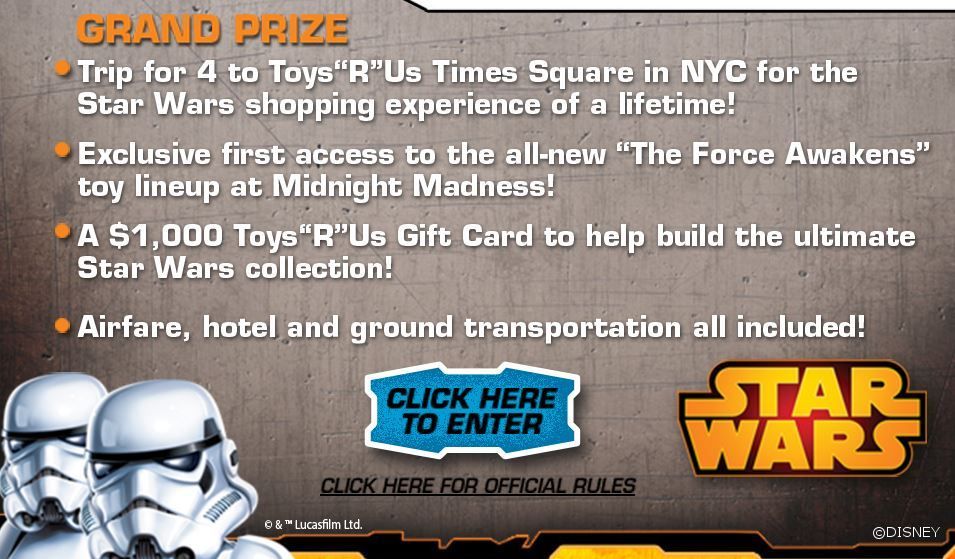 ---
Our friends at Jeditemplearchives.com give us a great C7 Sneak Peek...
-- Posted by Tamer on Thursday, April 16 2015
From a new 6" Line Look from Hasbro to some awesome shots of upcoming 3 and 3/4" Figures to just general set up shots there are some pretty fantastic images!

---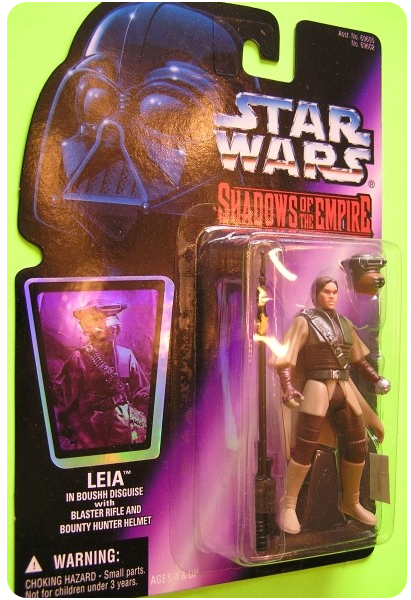 Most Wanted Collectibles still has some older Hasbro values!
-- Posted by Tamer on Wednesday, April 15 2015
The Boushh Leia in its new six inch form sure has been a storm of controversy this week and while perusing the latest deals from Most Wanted Collectibles I thought it was interesting to note that MWC still have the SOTE Version of this available.

Matter of fact, they have four pages of older Hasbro items some of which go for horrendous amounts on the secondary market. Click here to go take a look and walk down memory lane. I can sure remember having a hard time finding a few of these figures when they were out in the later 90s!

---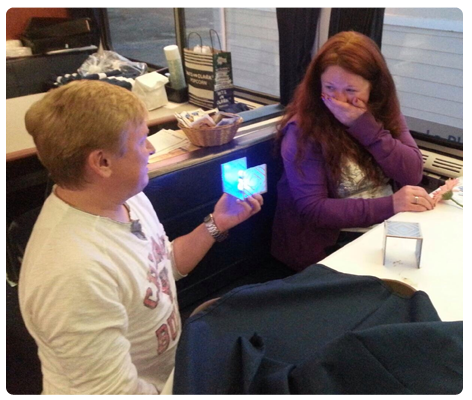 Graeber starts his C7 Trip off with a Yes!
-- Posted by Tamer on Wednesday, April 15 2015
He created a Jedi Holocron to hide a very interesting surprise for his now fiance when he got started with his train ride to Celebration Anaheim yesterday. We want to wish him and his bride to be a very hearty congratulations and once again applaud Graeber for his ingenuity in creating such a unique way of proposing!

---
The Force Awakens Panel will livestream on SW.com Thursday morning!
-- Posted by Tamer on Wednesday, April 15 2015
"The "Star Wars Celebration" convention kicks off in Anaheim shortly, but the big thing everyone will want to hear about is the "Star Wars: The Force Awakens" panel on Thursday morning. Today, the official social media accounts for the franchise have confirmed that the 'Force Awakens' panel will be live-streamed over on StarWars.com.

The big surprise though? It has also been confirmed (via Twitter) that, unlike Comic Con panels, any exclusive footage debuting at the panel will be a part of the live stream. It will NOT be cut or blacked out." Click here to read the full article from darkhorizons.com.

---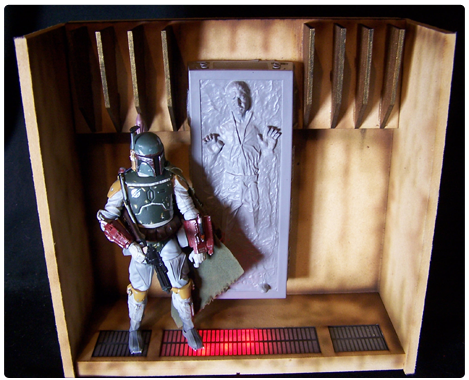 TS Hobbies shows off a great new way to display your 6" Han in Carbonite!
-- Posted by Tamer on Wednesday, April 15 2015
"Heres a new display for Boba and Han... and Leia of course! still a WIP ..need to add the control box to the wall and also need a longer LED strip.... also..these will be available soon in kit form." Well now this is just a great idea!

---
Mandalore 1992 is back with new Rebels...
-- Posted by Tamer on Wednesday, April 15 2015
"Hello everyone I recently finish a custom of my favorite character from Rebels: The Inquisitor. Not a Sith, but he fights really good, a great combination of tough guy and elegance." I am still really liking the Kanan he showed us last time too.

---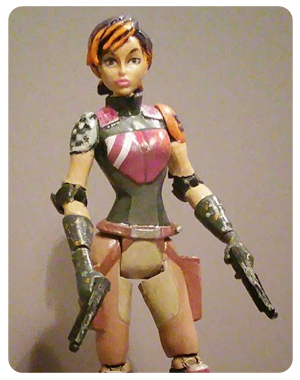 Darth Daddy is back with a new REBELS Update...
-- Posted by Tamer on Wednesday, April 15 2015
"My other Rebels custom came out even better." That would him describing his wonderful new Sabine Wren. I can't even imagine the hype this line would be getting if all of the REBELS figures looked like this.

---
Shapeways gives you a 10% off deal...
-- Posted by Tamer on Wednesday, April 15 2015
"Last week, Shapeways.com had some technical issues that caused many of you to have challenges using the site. Our team was working around the clock to find and fix the cause of the issues, and I'm pleased to say that we did. I know that many of you were affected while Shapeways wasn't working as expected, and am deeply sorry for any inconvenience this may have caused you.

As a thank you for being so understanding with us and patient during what proved to be a challenging time at Shapeways, I am offering everyone 10% off of their next Shapeways order. Just use code THANKYOU10 at checkout, and feel free to share this code with your customers, family, and friends. It's valid on any order through next Monday, April 20th."

If you are trying to find a great product to add to your cart, this great 6" Darth Talon Kit sure has turned out awesome per a project by TS Hobbies last week.

---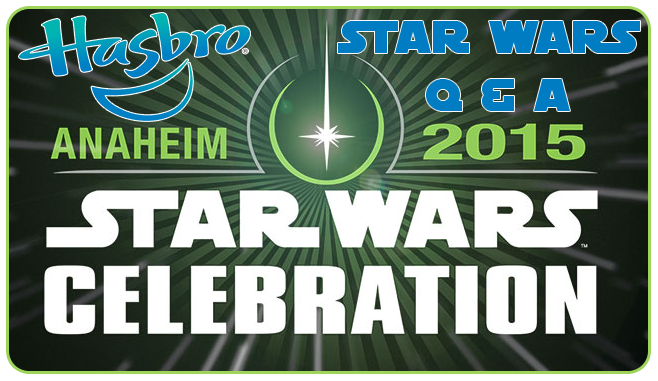 Tonight is the deadline to get your question for Hasbro posted!
-- Posted by Tamer on Tuesday, April 14 2015
We have been given a time slot at Celebration Anaheim to talk with the Hasbro Star Wars Brand Team. Click here to send in your questions for Hasbro remembering that The Force Awakens Questions are off limits. Please also remember that we will only get a few minutes with Hasbro so the better worded and thought out your questions the greater the likelihood your question will make the cut!

---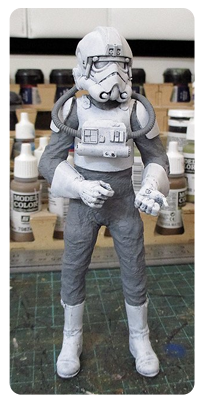 Ron Hembling updates us on his 6" AT-AT Driver...
-- Posted by Tamer on Tuesday, April 14 2015
"I have started painting him, I mixed flat white and black to get the grey tone for the jumpsuit and as you can see and as Clonehead mentioned the wet tissue will sit perfectly over the already sculpted creases. I have also started weathering the white areas by dry brushing the flat white and then adding a very soft black wash to the white areas." Folks to say this is look awesome is an understatement!

---