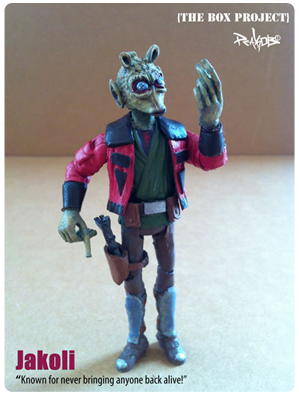 Peakob1 adds to his box project...
-- Posted by Tamer on Monday, September 22 2014
"Hey folks hope all is going well wanted to drop another character from "The Box Project" that i'm working on.
If your unsure what that is or you don't know a lot about clone wars the animated series, The box was an episode from the clone wars that pitted 13 of the baddest bounty hunters in the galaxy against one another in a game of death, and i'm going to be making twelve of them since Embo has already been made." I am really enjoying his custom series.

---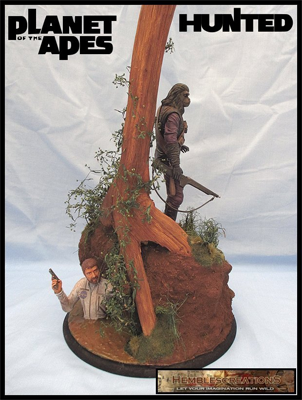 Ron Hembling finishes his latest Planet Of The Apes Diorama...
-- Posted by Tamer on Monday, September 22 2014
"This dio depicts Commander Hunter Hembling being the only survivor after his space craft crashed landed in the outer rims of the forbidden zone. After a few days travelling he comes across a dirt road and then suddenly he is fired apon, he looks where the shots had come from and to his surprise he see's Gorillas brandishing weapons. Hembling flees for the forest and takes refuge waist deep in a muddy river bed where he sits and waits with his pistol at the ready and hopefully the Gorillas will completely miss him. He waits in the muddy river for over an hour and he thinks they have missed him then suddenly he hears foot steps and he knows that a Gorilla is just above him and he realizes that he is still being HUNTED." The full recipe for this is amazing!

---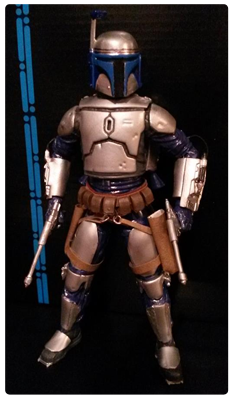 Spuda Fett is back with a new six inch custom...
-- Posted by Tamer on Monday, September 22 2014
"Finished. For those keeping score at home, here is a list of modifications from the original boba:

Trimmed off thigh pockets and shin pockets/tools
Removed belt and cut apart pouches, creating entirely new belt out of faux leather
Total repaint
Added 4 new "hoses", 2 for each gauntlet
Sculpted new shin armor and filled in holes from removing thigh pockets
Filled in dent in helmet and cape hole
added styrene armor to thighs, using a lighter to heat up styrene and shape it to fit
used same technique to add boot armor
scratch built 2 blasters
re-built jetpack using original as base. "

Wow, his Jango Fett is pretty daggone nice!

---
Mandalore25 is back with an update...
-- Posted by Tamer on Monday, September 22 2014
"I've been wanting to make a custom female Mandalorian for quite some time, and a while back a Chinese seller was selling Isabet Reau figures with no accessories pretty cheep so I got one and waited until I had the pieces to make this one. The purple is entirely done in sharpie, and as I said before it can be sticky and shiny but a clear coat will take care of that." I agree that it looks pretty nice!

---
John Caliber shares Chapter 3 of Brain of the Ark!
-- Posted by Tamer on Monday, September 22 2014
I am getting to really look forward to his Monday and Thursday new chapters of his graphic fiction. I must say it looks like Chewbacca has gotten himself into a tight spot for this story!

---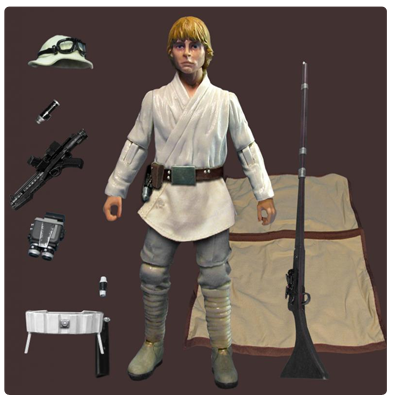 Darth Sinister presents a different point of view...
-- Posted by Tamer on Monday, September 22 2014
"I've got an eclectic mix tonight. No big stories here just some random stuff." Now thats my kind of random!

---
Grab your six inchers at Dorkside Toys before they sell out!
-- Posted by Tamer on Sunday, September 21 2014
Our Warehouse Clearance Sale ended earlier this week but even though a huge success we still have quite a few new bargains we discovered in the clear-out, so make sure you check out our clearance section especially for low cost GI JOES & Marvel figures.

Jabba & Speeder Bikes are thinning out quickly, especially due to lots of stores not receiving stock and international demand with heavy overseas prices for these. Don't say we didn't warn you to get these! The black series are continuing to be high in demand, especially in the six inch line, Check out some reviews of both sizes of these figures including a sneak peek at Darth Vader& Chewie from the next wave. Lots of forthcoming Star Wars figures in both 3.75" & 6" scale up for pre-order & in stock. Plus Rebels, Rebels Saga legends, Mission Series, Mafex, Jumbo Kenner & cool POP! Star Wars vinyl.

SHOP STAR WARS NOW

Also, don't forget to check out the entire Dorkside Toys Newsletter that is updated each week as this is just a fraction of all the action figure goodness you can find there!

---

And its time to vote for our Birthday Custom Challenge!
-- Posted by Tamer on Sunday, September 21 2014
The participation in the idea thread alone was spot on fantastic, but I am really excited to see what choice out of all of the great ideas is the theme for our BDay Challenge. Prizes are being accumulated and this really looks to be one of our best Birthday Celebrations yet. Special thanks to Mr. Black for helping me organize all the ideas into voting choices and of course the Shipyarders themselves for showing once again how imaginative they can be in regards to the them of a custom challenge.

---
Secret Santa is back at Imperial Shipyards...
-- Posted by Tamer on Sunday, September 21 2014
Thanks to Mr. Black (my pal Remco) I am excited to announce a return of this awesome event here at the Yards. He has kindly agreed to come on in a staff capacity to moderate the event for us. Click here to read the full program details and see how to get signed up. I definitely want to publicly thank Remco for taking this on so this popular program could once again continue here at ISY. Please don't wait too long to click in as the closing date for signing up for this is September, 30th!

---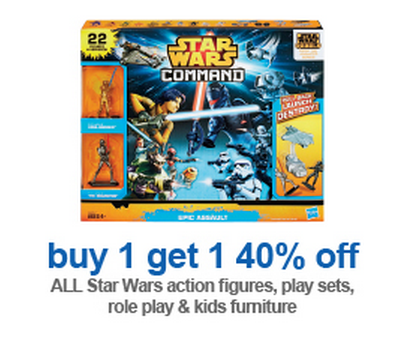 Its time to head to Toys R Us!
-- Posted by Tamer on Sunday, September 21 2014
There is an in store only discount of Buy One Get One 40% Off all Star Wars Action Figures, play sets, role play and kids furniture. Remember this is not online and for in store purchases only. Sure makes me wish I had a store close!

---
Mr. Black shows us his finished Quinlan Vos...
-- Posted by Tamer on Sunday, September 21 2014
"Finished editing the pictures and sent off Quinlan to his new home. Here's a couple of full frame shots. I must say it is sure one fantastic custom version of this character. I am sure the commissioner of this custom will be one happy customer.

---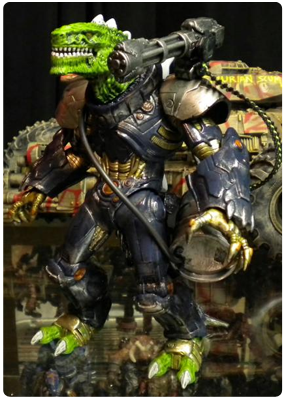 Tankster starts up a new Customs Verse...
-- Posted by Tamer on Sunday, September 21 2014
"I have plans on launching a new type of series of Figures under the title Dino-Force 5147 this will be very kid oriented and adults alike its meant to be fun with a good Sci-Fi edge to it First up will be one of the leading characters Robo-Rex one of the Good Guys. Dino-Force will happen in the year...you guessed it 5147. Scientists have unlocked the genetic codes for reptilian DNA and Humans and fossils holding Reptilian DNA will be used to create hybrid reptiles that are smart. Robo-Rex was made from a DC ParaDemon and a 1996 Movie Godilla Figure (which doesn't count for Godzilla IMO) lots of Aves Sculpting for bony Protrusions anda Spawn anime Gator for the tail." I like the sound of this new verse, make sure you hit the aforementioned link to see the full description.

---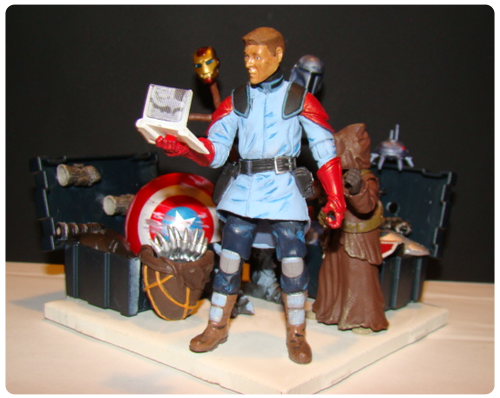 Tonphanan is back with a custom update...
-- Posted by Tamer on Sunday, September 21 2014
"Light armor merchant with Jawa assistant." Works for me. I think we need as many of these types of background characters as we can get. Can't you just see this sitting in some type of Tatooine or Mos Eisley Diorama?

---
Primitive Todd is back with a customs update...
-- Posted by Tamer on Sunday, September 21 2014
"Here are a few images of a slightly modified and painted AT-RT and driver. The AT-RT has a new front cannon and I also added a custom new sensor/jamming array onto the back. The pilot I see as a variant of a scout trooper (it actually is a Hoth snow scout body) but wearing grey coveralls like an AT-ST driver or Imperial Army trooper. The maintenance droid is also a custom paint job." I like the look of all of this!

---