Its time to vote for your favorite!
-- Posted by Tamer on Tuesday, May 21 2013
We have all kind of votes happening here now, but we wanted to make sure we feature the vote for the awesome Diorama Anniversary of Frank Diorio. He has picked the top five choices for dioramas he has never produced before (notice that two of them are not SW!) and now is the time for you to possibly win one of those dioramas built by Frank Diorio himself. Please click this link to see how to vote and make sure you do so only once or you will invalidate your entry and have no chance to win one of 31 prizes being dolled out in this 1st Anniversary of Diorama Workshop.com!

---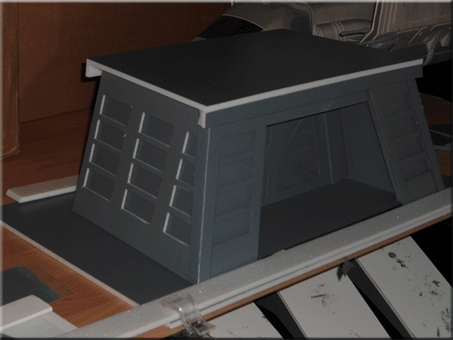 Darth Revenge starts an Endor Bunker!
-- Posted by Tamer on Tuesday, May 21 2013
We have all been enjoying his Cantina, but now I see he is starting work on a ROTJ Endor Bunker scene. Click on through to see how he is making out.

---
Clonehead finds the new Walker!
-- Posted by Tamer on Tuesday, May 21 2013
I have been waiting for that Vintage Boxed ROTJ Walker for awhile now and Clint is the first Yarder to get one that I know of. Let us know what your latest purchase has been. Also, please be aware that Toys R Us has a 20 percent off coupon that you can print using this link, but you have to use it by Saturday. I would also like to thank our friends from Yakface for making me aware of this!

---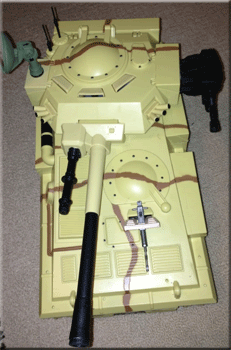 Shaman Log Ray starts a new project...
-- Posted by Tamer on Tuesday, May 21 2013
Well I was saddened to hear that space issues causes him to part with some of his dioramas, but I can see that the new space has also started him into some new projects including this great USMC Tank work in progress. I will be following this build. I can rest easier knowing that his great AT-AT Project is still in safe hands.

---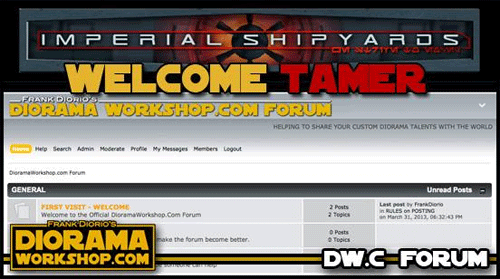 Frank knows how to welcome a guy!
-- Posted by Tamer on Tuesday, May 21 2013
I was pretty humbled to see the very gracious welcome that Frank Diorio of Diorama Workshop.com has given me in regards to admining his new forums. Frank has done so much for the custom community that I wanted to give back, if even just a bit, for all of his great work. If you haven't joined up yet, click this link to register and prepare to enjoy yourself. There is just a ton of custom work from all genres (I even saw Muppets there last night) and I am really enjoying myself. If you like customs you are going to want to take a look.

---
KRZTFR shows us a great TOR Diorama...
-- Posted by Tamer on Tuesday, May 21 2013
The display base on this is absolutely fantastic! From KRZ, "About a month ago I found a Darth Malgus at my local Target and since then I been on a SWTOR craze I got two figures I'm working on and the walker I decided it would be from that era as a cargo transport." I think it is one of the must clicks of the morning!

---
Star Wars Rebels: The Rebellion Begins
-- Posted by Tamer on Tuesday, May 21 2013
We finally get some information on the new Star Wars Animation we keep hearing about. Listen to Pablo Hidalgo interview David Filoni (Hooray, he is involved!) about the new upcoming animated series Star Wars Rebels that is coming in the Fall of 2014. Click here to see the full news article. Thanks to Camo Deafie for bring this to our attention as well.

---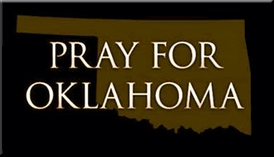 Remembering those in Oklahoma!
-- Posted by Tamer on Tuesday, May 21 2013
I got up this morning and listened just a bit to the tragedy that is being left in the aftermath of some devastating tornadoes that went through Oklahoma and surrounding states. We wanted to take a moment of time to let those folks know that we support them and are sending our thoughts and prayers their way.

---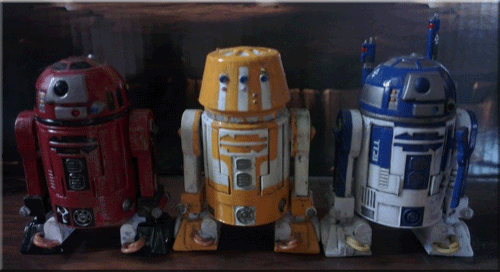 Wraithnine gives you a great chance...
-- Posted by Tamer on Tuesday, May 21 2013
To own some of his awesome custom Astro-Mech. He is selling custom three-packs of some of his best detailed work. I don't know how he paints them so intricately, but click on through to see all of the selections.

---
Its time to vote on your favorite for the custom contest!
-- Posted by Tamer on Monday, May 20 2013
The Hasbro Figures That Never Were The Clone Wars Custom Contest has wrapped up as far as the entry phase and now it is time to pick your favorite. You have just one week to decide who get The Clonehead's awesome prize pack of parts. We would like to thank him once again for his kind donation and wish everyone luck with the fan vote.

---
Ukko is back with a great Mandalorian...
-- Posted by Tamer on Monday, May 20 2013
I really do like their armor sytle and Ukko has really painted up a nice set of Beskar Gam for this great custom. Notice the awesome sculpt work on the face of this one too. The larger pics are just a click away.

---

CAFN does a special podcast with Frank Diorio...
-- Posted by Tamer on Sunday, May 19 2013


Frank Diorio is well known to customizing fans across the world and definitely a well known guest to CAFN. Chad and I were looking for a reason to podcast anyhow and used this special podcast episode with Diorama Workshop.com to announce a few things that I think all will like to hear. It was also great fun to hear Frank talk about his experiences for Celebration 6 and hear what irons he has in the fire for the future. Sit back, get a good cup of coffee, and enjoy yourself. Don't worry, Custom Action Figure News is gearing up for a new season. And if you would like to be on send me an email!

---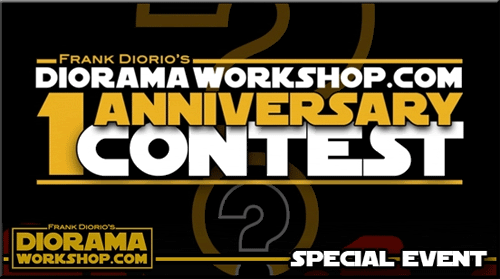 Do you want to win a persona dio from Frank Diorio?!
-- Posted by Tamer on Sunday, May 19 2013
I was just talking about Frank's Forums, but he is also in the middle of a 1 Year Anniversary Contest where he will go through member suggestions for a new diorama that he hasn't built yet, allow members to vote on their favorite, and then Steve Sansweet will pick the winning number from those of us who vote! Can you imagine your very own personal diorama built by Frank shipped free of charge! He also has 30 runner up prizes too. Make sure you vote only once though or you will invalidate your entry (stay tuned to our CAFN Special Podast to air this morning) and click on through to our forums to see the full details.

---
Darth Streams shows us his finished Fettator!
-- Posted by Tamer on Sunday, May 19 2013
I forgot to get to this yesterday and daggone it almost forgot again today (sorry DS!), but I found it again and wow is it awesome. I love to see cross-over creations and his Predator version of Boba Fett is off the charts. Click on through and tell me you wouldn't want it in your collection!

---
Lucasclones gives us his RC Project Finale...
-- Posted by Tamer on Sunday, May 19 2013
He is wanting to do a better photo shoot probably sometime today or tomorrow, but I think his latest images are daggone fantastic. I am still trying to decide on my favorite one, but click on through and enjoy his fully articulated well accessorized Republic Commando Squad.

---